The senior executive at the Importer of Record present in more than 170 territories reveals the company's strategy for the logistics industry – new WMS services, increased penetration in the satellite industry and his take on the global economy.
2022 was a special year for Aerodoc COO Dan Zonnenschein, the executive in charge of strategy at the Miami-based logistics company that is growing in the IOR/EOR market and expanding to other segments, such as warehouse managed services (WMS) and e-commerce, for now in its wholesale version. On one hand, Aerodoc turned 25, a milestone celebrated by the company in a series of events with stakeholders; on the other hand, it consolidated its position as Importer of Record by expanding its coverage in a complex year.
In an interview, Zonnenschein outlined the biggest achievements and challenges for Aerodoc and the logistics industry in 2022 and forecasted a likewise complex year ahead in 2023 due to the war in Ukraine, inflation, and sluggish economic activity. He is nevertheless hopeful, especially due to Aerodoc's expansion in its home turf as well as other markets where the company is starting to boom. Here's what he told us: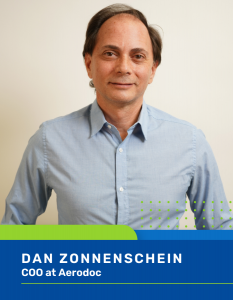 In your opinion, how did Aerodoc do in 2022, the year of its 25th anniversary?
2022 was a very interesting year in three key aspects of our business. First, we consolidated Aerodoc Warehouse Managed Services (AWMS) by expanding our storage capabilities by more than 4,000 sq. ft. Second, we attracted new clients from the satellite and technology industries. Last, but not least, there's the milestone of starting our e-commerce business, helping wholesalers enter the North American market by meeting wholesale distribution requirements through platforms and retail store networks.
How has Aerodoc expanded around the world lately?
Geographically, we are still centered in Latin America and the Caribbean and maintain our penetration in regions like Asia and Africa. We have also expanded our coverage and now we operate in more than 170 countries, with local branches in the USA, Argentina, Chile, Peru, Colombia, Mexico, and recently, Panama.
What does it mean for Aerodoc to reach its 25th anniversary?
It's an iconic milestone: keeping up with this market for so long, growing and adapting our organization, is no easy feat. We have incorporated many young assets, who contribute freshness, talent, and highly sought-after skills. For my generation, after 30 years in management and business, those new talents help us change our mindset and understand younger generations.
What about the celebration events?
This year has been very meaningful for all of us, so we dared look back and are happy with what we have accomplished so far. It is also a way to start designing a strategic growth plan for the next five to ten years. Moreover, as a part of the 25th anniversary celebrations, we have launched a series of actions to get consistently closer to customers and prospects, bringing our knowledge to our entire target audience.
Let's talk about the current scenario: What were the company's biggest challenges?
This year had lots of challenges. We live in a world where there's a war with high political and economic impact, inflation, an economic slowdown, and supply chain issues for technology and telecommunications, affecting our customers. This has caused certain business delays, increased logistics costs, and in one of our biggest markets, Argentina, major challenges and changes in import conditions.
What did you do to navigate that?
Despite all those challenges, we are closing out a great year, with new customers, new services, and high satisfaction with our service quality. We have overcome all those challenges by adding talent, enhancing our operational and digital infrastructure, improving our warehouses, and increasing storage capacity, among many other achievements.
What's your market forecast for 2023? What will be the biggest logistics and economic challenges for next year?
We don't expect much growth in economic activity for 2023. Inflation will remain high, although it should start receding and allow resuming growth and cost savings. From a logistics standpoint, we expect a return to stability in different markets, so we can get reasonable operational costs and shorter operation delays due to port congestion and lockdowns like the ones we saw in China, for example.
Let's talk about Aerodoc. What can we expect from it next year?

We will continue to expand AWMS, developing new IOR verticals in medicine and wholesale e-commerce. We also expect to have organic growth thanks to our corporate customers and our agent network, which got us into 170 territories around the globe.
Can you share more details about Aerodoc's strategy for its WMS service?
First, we have expanded our physical capacity by adding square footage and own infrastructure, so we could make the most of our volumetric space. That's done and now we are looking for new locations to keep growing. We are closing strategic deals with other operators with available space so we can handle demand surges in a predictable way, always providing the best service for our customers.
Would you like to say a few words to your employees, customers, and providers?
We are closing out a great year and expect 2023 to be challenging. In our industry and under the current scenario, everyone must look for long-term relationships where win-wins are not merely advertising claims, but a way to feel and live business. Our philosophy at Aerodoc's senior management is striking up relationships with our employees, customers, and providers, which is why we have had a high talent, customer, and provider retention rate for so long. Over time, that generates lots of added value in our relationships and economic value for every stakeholder. Next year, we will work together using that same recipe for success.